Ausland crews diverted 95% of demolition debris from the landfill through recycling and reuse.  The site is now being prepared for a new clinic to open in 2013.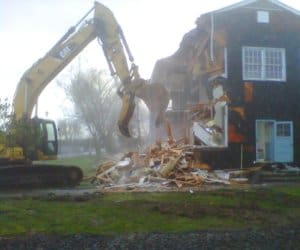 A 1940's era Veterans Administration (VA) Building was demolished last week in White City, Oregon.   While the building is gone, it is not lost.  In fact, you will find bits and pieces of it around the Rogue Valley in coming months.
Ausland has found a home for just about everything from the old 36,000 square foot building.  Wood Timbers were salvaged for reuse in another building on the VA campus.   Concrete has been crushed and will be used as fill beneath a new building and parking lot.   Wood studs have been chipped and will be used as landscape mulch.  The fire alarm system has been salvaged for parts in another building.   Steel scraps will be recycled into new metal parts.  Over 95% of the demolished building –1,000+ tons – has been diverted from the landfill by either recycle or reuse.
Just a decade ago, it was common practice to haul the majority of demolition rubble to the landfill.  Today, smart demolition is proving to be one of the most constructive things in the development industry.   If a building has exceeded its service life, there are options beyond the landfill.  Ausland is amongst a growing number of design and construction firms committed to smart demolition practices, a part of the greater green building movement.  This commitment requires proactive research of markets to find new life for old materials; and a purposeful management effort to disassemble, reclaim, and recycle as many materials as can be economically justified from projects.
With the old building recycled, the site is now being prepared for an expansion of the VA Ambulatory Care Clinic, which is anticipated to open in early-2013.   This  $8.8 Million project will be two-stories and provide exam rooms, treatment rooms, caregiver offices, and a new lobby for outpatient services.
The VA Southern Oregon Rehabilitation Center & Care Clinic (VA SORCC) is located in White City, Oregon, and serves as a regional and national resource for underserved special populations, e.g., homeless, chronically mentally ill, and substance abuse, providing quality residential treatment in psychiatry, addictions, medicine, bio-psychosocial, physical and vocational rehabilitation. The facility provides veterans with individualized, compassionate, and high quality care and emphasizes rehabilitation as it provides safe residential rehabilitative care to inpatients and accessible primary and mental health care to its outpatients.
For more information about opportunities to work with Ausland on this or other projects, find us at www.auslandgroup.com