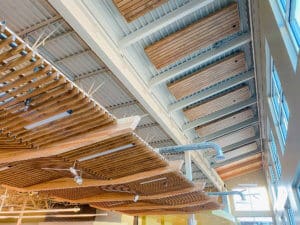 In February, Medford welcomed a new Market of Choice on Biddle Road. Ausland was proudly charged with changing the sad shell of an old Toys "R" Us store into a building that reflects the high quality of this local grocery store chain and its unique craftsmanship. Ausland previously partnered with Rick Wright, Owner of Market of Choice, on a challenging project to convert an old Planing Mill in Eugene into an event center in just 90 days, so this was a natural fit. This time, the challenge was taking this kitchen maid, the beat-up Toys "R" Us shell that had sat empty for so long, and turning her into the belle of the Medford shopping ball! It took a fantastic vision from Rick Wright, who does a great deal of the design work himself, in collaboration with GLAS Architects, and the talents of the in-house team of Ausland craftsmen to bring this building to life.
Impeccable Attention To Detail
Nothing communicates quality and a wonderful experience like fine wood finishes. When a customer enters the new Market of Choice, they are greeted with a café area surrounded by detailed alder wood. When they look up from their cup of espresso, they no longer see the industrial ceiling or sub-metal structure, but instead beautiful, handcrafted wood slats that baffle the sound and create an atmosphere of quality.
Special touches are in plain sight everywhere throughout this store. The ends of the aisles that hold the extensive wine selection have hand-crafted endcaps designed by Mr. Wright and constructed by Ausland. Many of them have hidden doors to store materials used by the beverage staff. The old, whitewashed cinderblock walls disappear behind the carefully crafted deli, bakery, and meat department service areas and signage. Even the bathrooms were carefully upgraded with maple casework on the doors and meticulous drilling into existing tile work to make sure there was no breakage or damage.
It's the Little Things
Perhaps the most unique design element that most people will take for granted is the repeating pear design above the produce section, showcasing the Ausland crew's unique craftsmanship skills. This system of boards creates an eye-catching visual along the long wall. The crew had to carefully measure and color the pattern in order to create the desired optical detail, which is clear as a patron walks in the store but almost disappears upon closer inspection. It's sort of magical.
It took countless hours of designing, measuring, and attention to detail to create the finishes that shoppers will walk past every day. Ausland is proud to partner with Market of Choice to deliver a store that enhances and communicates the brand's commitment to quality and attention to detail.