Paul G. Allen Family Foundation has awarded Britt Festivals a $125,000 Capacity Building Grant, part of which will be used to fund capital improvements to the Britt Hill.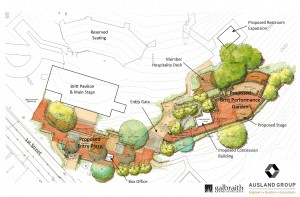 Since 2011 Ausland Group has worked with Britt Festivals leadership to design improvements focused on improving the experience for concert goers, and provided technical support for grant writing.   The Britt Performance Garden, a unique concert venue, will create an intimate setting for approximately 150 people and capture the natural splendor of Britt.
The New Garden will be nestled into the hillside near the main gates, and offer an area for smaller, more intimate concerts, and other special events.  New performances, additional seating – a new Britt Experience!
You can be a part of this exciting new venue by purchasing a personalized brick which will become the Britt Performance Garden's new pathway.   Bricks will be available for purchase at the Hill.
Construction is anticipated to begin in Fall 2012.  For more updates, visit the project page at: www.auslandgroup.com/britt
Ausland Group offers complete capital improvement expertise in development consulting, engineering, and construction.   For more information, visit us at https://auslandgroup.com/