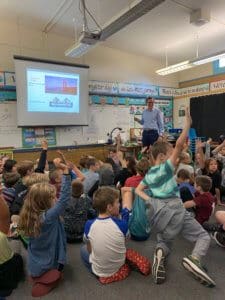 Great jobs are coming.
The past 10 years, STEM (Science, Technology, Engineering and Mathematics) jobs grew three times as fast as non-STEM jobs and STEM workers commanded higher wages, earning 26 percent more than their non-STEM counterparts.  With the rapid growth in high-paying jobs in the STEM field, we need young people to fill these jobs.
But are we ready?
Sadly, the answer is no.  It is the apparent gap between these opportunities and student's qualifications that compels Ausland to get involved.
Ausland's core values are fundamentally the same as the STEM fields; the integration of disciplines leads to creative, world-class solutions. Just as our team of engineering, architecture, construction and design professionals solve complex problems for our clients, STEM breaks down the silos between disciplines and teaches students how these subjects work together. Students develop diverse skill sets and an appetite for exploration and innovation; attributes that any employer wants and the type of employee we attract here at Ausland.
Since our founding, we have been passionate about volunteering in our classrooms to help students build skills, learn about the great careers available to them and have fun (because solving problems with science can be fun!)
Kelsy Ausland, PE and president of Ausland Group, visited Grants Pass High School in February 2020 to teach students about world-class engineering and construction projects happening locally. Impressed by the caliber and academics she witnessed among the GPHS students, 
Kelsy remarked, "When many kids think about engineering projects, they imagine skyscrapers in Dubai or new dams in China. What we want to share with them is how critical this next generation of engineers, architects, and scientists are to solving real problems in our communities."  
Greg Ausland, PE and Principal at Ausland, spent some time with the third graders at Adams Elementary School in Eugene last fall. Greg teaches a lesson on bridge engineering with a hands-on demonstration that guarantees a slew of giggles and cheers from the highly engaged students.
Ausland employees also often return to their alma maters to work with students on the brink of breaking into STEM careers. Aaron Ausland, CCM and CEO at Ausland Group, spoke to and conducted mock interviews for students studying construction engineering management at Oregon State University in Febuary 2020.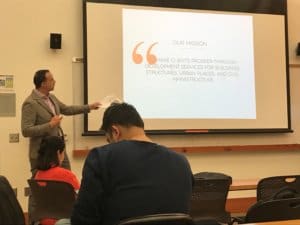 In addition, Kayla Bundy, architectural associate, returned to the University of Oregon as a reviewer for the architecture program, providing constructive feedback on the student's projects.
Kayla notes, "It is inspiring to see work that Is truly rooted in passion. I feel lucky to be able to be a part of the process as students find their own unique design path."
Here at Ausland, we are committed to supporting the next generation of innovators and opening doors to a career in STEM. You never know where the next great idea may come from, and it might just be here in Oregon but that will only happen by encouraging this next generation of great engineers and design professionals.  Ausland believes that together, we can make this happen.