QSolar and partners plan solar housing, manufacturing near Grants Pass, but details sketchy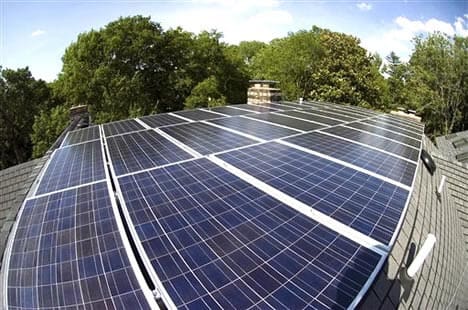 Developers plan one of the nation's first all-solar communities near Grants Pass, perhaps including a solar-module manufacturing plant employing 150 in recession-scarred Josephine County.
But details, including the amount and source of total investment, remained vague Wednesday. And those involved occasionally contradicted one another on specifics of the development.
Managers of QSolar Ltd., a Canadian company, said they'd landed a $3.25 million order to supply solar modules for 800 homes and commercial buildings. A consultant on the project said that it'd be more like 400 homes, many of them technically park-model recreational vehicles, but that German investors had grand designs for the property.
"Signing a deal that large for that large a portfolio of homes to be done altogether is relatively rare," said Shayle Kann, Boston-based managing director for solar at GTM Research, a market analysis company.
A master plan features about 400 so-called park cabins, small pre-fab houses resembling permanent structures, as well as conventional homes and about 550,000 square feet of commercial space. The project, to be built primarily by military veterans, would pioneer cottage-industry development, mixing residential construction with backyard space for light commercial use.
Michael Smith, business development manager at Southern Oregon Regional Economic Development Inc., said the 150 solar-module manufacturing positions would replace jobs in China, where QSolar makes photovoltaic cells. The jobs would be welcome in a county with 12.1 percent unemployment, he said.
"I've got two companies I'm working with now, including this one, that want to bring back manufacturing from China," Smith said. "One hundred percent of their reasoning is quality issues."
Smith is one of several people named Michael associated with the Rendata project, an oddity that caused confusion during a recent conference call.There's
Michael Bird
, Rendata project consultant, and
Michael Campbell
, managing director of
Ra Power & Light
, a California-based solar developer. Then there's
Michael Gandee
, founder and chairman of The Green Builders Institute, based in Medford and Reno.
An exception is Andreas Tapakoudes, chief executive of QSolar, which issued a news release Wednesday on the Rendata deal. Neither Tapakoudes nor Gandee returned repeated phone calls about the project.
QSolar, founded in the United Kingdom in 2007, manufactures panels in Shanghai. Its shares, which trade on the Canadian National Stock Exchange, were up 2 cents Wednesday at 27 cents.
QSolar's release said the project would begin with delivery of two sample houses, followed by volume deliveries beginning early next year. It said the company would supply 10,000 modules, or 2.5 megawatts.
Bird, a former Grants Pass attorney, said two German investors, Walter Ebert and Eddy Dienhart, bought the property near Merlin from Stimson Lumber years ago after a sawmill closed there.
Ausland Group president Aaron Ausland said his Grants Pass consulting firm produced the project master plan. Residential development on a bluff would combine with commercial development to create a unique synergy on the 180-acre property, Ausland said.
Source: