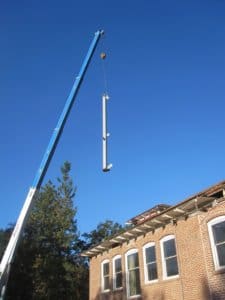 APPLEGATE, Ore. — A historic Southern Oregon school building that has been closed for nearly a decade is getting new life.
The hundred-year-old Applegate School is undergoing seismic retrofitting, thanks to a nearly million dollar state grant.
The sounds of saws, hammers and shovels fill the old Applegate School this summer. After a decade of sitting empty for fear of a possible collapse should an earthquake hit, the century old building is getting a rebirth.
The Applegate School has been part of the three rivers district for several years and houses kindergarten through 8th grade classes. Right now the old front porch is gone, but most of the bricks have been cleaned and saved to be re-used again. In the basement, workers are cutting through concrete and digging out the rocky ground below so that steel and concrete footings can be poured on, which to mount steel framing. The construction will also provide more space for students that was lost when it was closed.
A key element of this project is salvaging as much of the old materials as possible. The bricks, which were undoubtedly made here locally, and this clear vertical-grain fir flooring. All of these pieces are integral parts of putting the old building back together.
Aaron Ausland says the project should be finished by November, with move-in likely after the holiday vacation.
By Ron Brown
June 20, 2011