July 27, 2015, AllCare Health's new 45,000-square-foot headquarters slated to open in November 2016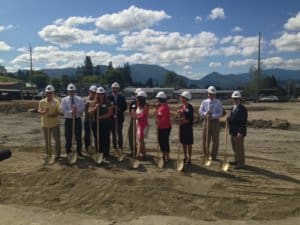 GRANTS PASS, Ore.—Executives for Mid Rogue AllCare Health Assurance, Inc. and its healthcare divisions broke ground today on a new 45,000-square-foot building in Grants Pass. In addition, the company recently announced it was changing its name to AllCare Health. The new building will serve as AllCare Health's new headquarters and house 150 employees.
Slated to open in November 2016, the AllCare Health building will be located at 1701 NE 7th Street, Grants Pass. AllCare Health has a total of 175 employees in Jackson, Josephine and Curry counties and a network of 1,500 healthcare providers serving more than 54,000 members from multiple health plans.
"Our new building will provide an outstanding workplace for employees, as well as meeting facilities for physicians, our partners in health and be a community asset for Southern Oregon," said Doug Flow, AllCare Health CEO. "This is an opportunity to expand our commitment to personal customer service through better and more convenient space for patient education, wellness programs and other community events. This state-of-the-art building will be a welcome addition to the city of Grants Pass and Southern Oregon, and we hope the community will be as eager about our new home as we are," adds Flow.

AllCare Health's new headquarters will have a modern and sophisticated design while offering its health plan members, employees and the public a warm, inviting environment that showcases and embraces the natural beauty of the city and Southern Oregon.
The structure will include a rich-colored foundation, three brick colors for the exterior and traditional punched window openings. Exterior brickwork will flow into the building while the warmth of the wood interiors will flow outward to the main plaza, giving visitors a seamless transition from outside in. The corner of the building, where the entrance will be located, will appear carved away with inviting, clear-blue tinted glass to reflect openness, and a stunning water fountain will welcome visitors.
Additional features include raised and lighted walkways, convenient public and employee parking, an abundance of community spaces and easy access to freeways.
Designed by the Ausland Group, a Grants Pass-based design and construction firm, the building's natural feel, connectivity and public access plazas will embody AllCare Health's commitment to the health and well-being of Southern Oregon.
"By having our team involved from the very first discussions of AllCare Health's needs and desires for this project, all the way through completion, we can deliver on their vision and also keep the project within their budget and time frame," says Aaron Ausland, CEO of Ausland Group. "It has been a pleasure to partner with AllCare Health on this venture."
Ausland offers complete capital improvement expertise in development consulting, engineering and construction. For more information visit us at www.auslandgroup.com.

About the new AllCare Health brand
As part of today's groundbreaking on Grants Pass' newest headquarters building, Mid Rogue AllCare Health Assurance also announced that all of its healthcare services will come together under the AllCare Health family of companies. Effective July 27, 2015, AllCare Advantage (formerly called CareSource/AllCare Health Plan), AllCare CCO, AllCare PEBB and the Mid Health eHealth Services divisions will all fall under the AllCare Health name to unify the brand for one of Southern Oregon's major healthcare organizations. Member services and procedures will not be affected by the name change.
"In keeping with our patient promise—'Changing healthcare to work for you'—we can even better deliver these healthcare services to our patients in this new building," said Flow.
The new AllCare Health logo resembles a flower blossom and symbolizes the idea of multiple parts coming together as one, reinforcing AllCare Health's commitment to providing integrated healthcare solutions. It also represents the human form, fully alive and embracing the role as community caregivers.
For more information about AllCare Health, visit www.allcarehealth.com
 About AllCare Health
AllCare Health is an integrated health organization in Southern Oregon, covering Jackson, Josephine and Curry counties, along with southern Douglas County. In a progressive model of care, AllCare Health combines medical, dental and mental health services, along with Medicare, Oregon Health Plan (OHP), and Public Employees Benefit Board (PEBB) insurance coverage, and health information technology services in one organization. AllCare Health is led by local physicians, many of whom have been working together to serve the community since 1994. For the more than 54,000 current members enrolled in various AllCare Health plans, this means simpler, more efficient care delivered by a network of over 1,500 healthcare providers.