By Jeff Duewel of the Daily Courier, July 28, 2015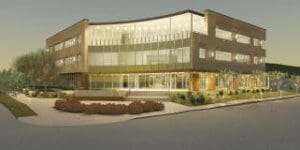 State Rep. Duane Stark had the crowd laughing Monday morning, as he explained what AllCare Health meant to him.
Stark was speaking at the groundbreaking event for a 45,000-square foot headquarters for AllCare on Northeast Seventh Street.
"(Dr.) Lyle Jackson actually brought me into the world," Stark told about 50 people.
"When I think of the role of a coordinated care organization, I don't think of a big organization that's untouchable. I think of Lyle.
"The power of having a local organization like this is phenomenal."
Jackson is one of more than 70 local physicians who are leaders of AllCare Health, formerly known as the Mid-Rogue Independent Physician Association.
Other local dignitaries took part in the ceremony, including Grants Pass Mayor Darin Fowler, Aaron Ausland of Ausland Group, which is the lead contractor on the project; and Colene Martin, president of the Grants Pass & Josephine County Chamber of Commerce.
"This is a big day for AllCare, Grants Pass and Josephine County," Martin said. "They could have moved to Jackson County, but they chose to stay here. A lot of that comes from Doug Flow."
AllCare started out as the Mid-Rogue IPA 20 years ago, with two people in a tiny office, Flow said.
"We hope our new headquarters will be a beacon to those we serve," Flow said.
Ausland's building design features a dramatic concave front entrance facing the intersection of Seventh Street and Hillcrest Drive.
Inside the entrance will await a two-story atrium and stunning water fountain.
The three-story building, expected to be complete in the fall of 2016, will house 150 employees.
An artist's rendering of the building from two angles was unveiled, as well as a new logo for the organization, resembling a flower blossom.
AllCare Health also announced Monday that AllCare Advantage (formerly called CareSource), Mid Rogue Independent Physician Association, AllCare Public Employees Benefit Board and Mid Rogue eHealth Services divisions all now fall under the AllCare Health name to unify the brand.
AllCare Health serves Jackson, Josephine, Curry and southern Douglas County, and has a network of 1,500 health care providers serving more than 54,000 members from multiple health plans.
Dr. Richard Williams, AllCare board chairman, said the Wall Street Journal recently pointed to Oregon coordinated care organizations as a model of success.
He said the new look doesn't change the mission of the organization.
"For 20 years our goal never waivered, providing quality health care for the community," he said. "With the new building and new image everything is changed, yet everything remains the same."
Ausland offers complete capital improvement expertise in development consulting, engineering and construction. For more information visit us at www.auslandgroup.com.