By Jeff Duewel of the Daily Courier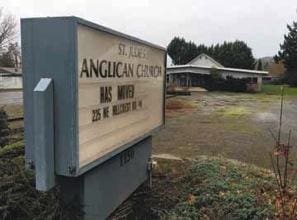 GRANTS PASS, OR – The drive to get senior meals programs established at a former church building in northeast Grants Pass got a huge boost with a $100,000 donation from AllCare Health, it was announced this morning.
Food & Friends, which feeds about 1,100 senior citizens a day in Josephine County, has been operating for the past decade at a county-owned facility on Ringuette Drive. Last fall, the county did not renew the contract with Food & Friends.
The Rogue Valley Council of Governments recently negotiated to purchase the former Church of the Nazarene building at 1150 N.E. Ninth St. for $350,000 to house the service once known as Meals on Wheels.
Original estimates call for a total of $1 million to acquire the property and then remodel it to make it suitable for Food & Friends. A $600,000 block grant had previously been announced, leaving an estimated $400,000 to make the project a reality, according to RVCOG.
"This infusion of $100,000 really makes this entire project possible," said Dave Toler, former director of Senior & Disability Services for RVCOG.
Toler is now director of Senior and Disability Services with the Oregon Cascades West Council of Governments, which includes Benton, Linn and Lincoln counties.
He added, "AllCare Health is clearly very committed to this community. This project will go a long way toward ensuring that at-risk, home-bound seniors in Josephine County will continue to have meals delivered to their door by a community volunteer."
A federal Community Development Block Grant sponsored by Josephine County is projected to cover another 60 percent of the project cost of about $1 million, according to a news release from AllCare and RVCOG.
Michael Cavallaro, RVCOG's executive director, said the $100,000 grant "shows the kind of leadership AllCare Health is willing and able to provide the people of Josephine County, and indicates a commitment that goes well beyond the health and well being of just those who use their services."
The Ausland Group of Grants Pass has donated preliminary architectural work to get the project off the ground, and the owners of the building itself, the Church of the Nazarene, reduced the property's price significantly to help with the transition.
Ausland is currently building a 45,000-square foot headquarters for AllCare Health on Northeast Seventh and Hillcrest streets.
AllCare Health, formerly known as Mid-Rogue Independent Physicians Association, is a coordinated care organization serving Jackson, Josephine, Curry and southern Douglas County. It has a network of 1,500 health care providers serving more than 54,000 members covered by the various health plans it offers
To support the campaign to ensure Food & Friends continues to be available in Josephine County, donations can be sent to: New Home for Food & Friends c/o RVCOG, PO Box 3275, Central Point, OR 97502.
Ausland offers complete capital improvement expertise in development consulting, engineering and construction. For more information visit us at www.auslandgroup.com.