By Sherri Buri McDonal, The Register-Guard, October 25, 2015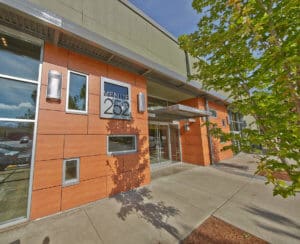 EUGENE, OR – Venue 252, a large new events center in Eugene's burgeoning Whiteaker district, is the latest project of local grocery executive Rick Wright, who said he has spent $4.5 million to buy and remodel this piece of the once-­sprawling former Eugene Planing Mill.
Venue 252 — named after its address at 252 Lawrence St. — is booking everything from weddings to medical conventions as far in the future as late 2016. It can host as many as 770 people for a seated event or 1,285 for a reception.
With a "really fun vibe," and "urban arts, edgy feel," Venue 252 provides a new type of meeting space in the Eugene-Springfield area, said Kari Westlund, head of Travel Lane County.
She predicts that with its hip, urban-industrial interior, and food and beverage service provided by Market of Choice's catering arm, the center "will get good use and be positively received."
It also will shake up the local market for meeting space, Westlund said.
"Any time you have a product addition of any kind, (it's) going to be a competitive element," Westlund said. "It tends to raise the standard for everybody and competition is good."
At 20,000 square feet, Venue 252 sits between the Eugene Conference Center, with 30,000 square feet of usable space, and Valley River Inn, which has a total of 15,000 square feet in three meeting rooms, Westlund said.
Venue 252 also will add more activity to its part of Whiteaker, local real estate appraiser Rick Duncan said. He and other partners, including Pacific Continental banker Dean Hansen, bet on the future of this area by acquiring multiple properties near Venue 252 in February.
Several other owners of property in the neighborhood have brought new life to old industrial structures, including the former QSL printing facility, which has morphed into the Lincoln Building and now houses the Fertilab business incubator, and the Stellaria Building, which became Hummingbird Wholesale's office and warehouse, Duncan said.
He said what Wright has done with Venue 252 "is wonderful."
Deciding on a venue
How did Wright, a grocery guy, get into the events business?
Debbie, his wife, organizes an annual fundraiser for the Angel Hair Foundation. The Wrights' daughter, Staci, a cancer survivor now in medical school, created the foundation with her mom in 2007 to help to provide cranial hair prostheses for children who have lost their hair from illness or medical treatment.
Wright said he knew from Debbie's experience and also working with the local Relief Nursery charity that finding space each year for fundraisers was a headache and could result in a nomadic event that is hard on both organizers and participants.
"For a number of years I said if the right place came along I would do an events center," Wright said.
That place did come along, but in an unexpected spot.
Wright said he thought about putting an events facility by Market of Choice's central kitchen in west Eugene, but that was too out of the way. Then he focused on downtown Eugene.
It wasn't until Wright attended a function at Pure Space, a renovated warehouse in Portland's Pearl District, he said, that "it dawned on me I wasn't looking at the right spot."
That led him to the Whiteaker, which has special zoning allowing residential, commercial and industrial users to share the same neighborhood.
Wright bought the 29,000-square-foot building at 252 Lawrence St. for $2.8 million in October 2014 and hired TGB Architects & Planning and the Ausland Group, as general contractor, to get it ready to host the Angel Hair Foundation's "Dancing with the Stars"-style fundraiser in January. He also acquired land east of the center, which is now a 144-space parking lot.
In May, Wright took out a $2.8 million 10-year mortgage from Umpqua Bank, with the entire Venue 252 holdings as security, according to Lane County property records.
Greg Ausland, a partner with the Ausland Group, said the tight construction frame necessary to be ready for the January fundraiser was the project's biggest challenge.
"At times seven different trades were working in there," Ausland said. "For weeks on end the lights didn't go off."
But everyone, including city building officials, pulled together to complete it in time, he said.
"We got our temporary occupancy permit the day before (the event) at 2 p.m., and the next day 500 people showed up," Ausland said.
"It was really nice working with Rick, (who was a) single source decision maker," Ausland said. "He was really creative. He would often draft something himself in CAD (drafting software)."
Then it took five more months to get the facility to "where we want it to be," Wright said.
The center is much larger than it appears from the street. Guests enter the lobby through large glass doors. A restored red, neon Eugene Planing Mill sign, which Ausland said probably dates to the '40s, glows from its perch at the top of the stair.
"It was salvaged from the west wall of (this) building," he said. "It was refurbished to make it function, while also retaining its weathered history."
From the lobby, guests pass through two giant doors made of striped zebrawood to enter the grand hall.
"They're hidden spring-loaded doors (that) open kind of like Batman's cave," Ausland said. TGB Architects designed the doors to be "grand and striking," he said.
The 9,410-square-foot main hall, with a balcony, retains many elements of the original warehouse, such as a foot-thick concrete wall and concrete floors, which were ground and polished, Wright said.
"We left it pretty raw," he said. "I didn't want to put too many finishes (so) that it couldn't be used for any event."
Nearby is a 2,390-square-foot gallery space, which could hold as many as 150 people for a sit-down dinner or 240 for a reception, said Christine Vaughan, event services manager.
Also on the first floor are a green room with a private bathroom and sleek new bathrooms for guests.
On the second floor is a 1,080-square-foot mezzanine lounge, with modern black and white leather seating, for entertaining and socializing.
The center also includes a 1,500-square-foot dance studio, where years ago former tenant Gold's Gym had a basketball half-court. Wright said his wife Debbie, a ballroom dancer, practices there daily.
Future events
Rental costs range from $600 for the gallery space on a Monday to $5,000 for the entire venue on a Saturday, Vaughan said.
If food and beverages will be served, contracts require renters to use Market Catering.
The catering business "wasn't the driver" for opening the events center, Wright said. "But once we had this idea, we thought we needed to tie in Market Catering."
By marketing mostly through word-of-mouth, the center has attracted interest from companies, nonprofits, trade shows, expos, bridal shows, as well as family events, such as weddings, retirement parties and birthdays, Vaughan said.
The venue launched its website and marketing brochures this month, she said.
The space has a "wow factor," said Vaughan, who was hired three months ago.
Venue 252 already has hosted a range of events, including the 480-person Relief Nursery auction in April. It is home most Sunday mornings to Eastside Faith Center — recently renamed ­Eastside@The Venue, which Wright calls "a great tenant."
And it opened its doors Saturday to hundreds of people attending GanjaCon 2015, a marijuana convention.
"We're expecting 1,000-1,200 people on Saturday (Oct. 24)," Vaughan said before the event.
Marijuana is "legal now," she noted. "It's just like any other trade show."
On its Facebook page, GanjaCon 2015 promoted free samples to attendees while supplies last.
Vaughan said the event was to be alcohol-free and attendees would not be allowed to consume marijuana on-site.
Wright said the biggest challenge he faced with the Venue 252 project was finding the right manager.
"You need to find someone in Eugene with a lot of event planning experience," he said. "It took a number of attempts."
Vaughan has experience managing events at large venues in Portland and has worked for a range of nonprofit groups, including United Way of Lane County.
Wright has a reputation as an innovator, who transformed his family's Price Chopper grocery chain into Market of Choice, a premiere brand.
Market of Choice now includes nine stores and with two more under development. It employs 1,000 people, and will add 200 more when the store in Bend opens, which is expected in May.
That raises the question of whether Wright envisions a different use for the Whiteaker property years from now, but he declined to speculate.
"The location of the real estate and the opportunity to acquire it with the surface parking was very attractive," Wright said.
"We didn't buy it just for the real estate; we bought it for an events center … and hopefully we'll make a go of it," he said.
Ausland offers complete capital improvement expertise in development consulting, engineering and construction. For more information visit us at www.auslandgroup.com.