Ausland Group is the proud recipient of the American Society of Civil Engineers, Oregon Section, (ASCE Oregon) Project of the Year for Cottage Grove's iconic J. Polk Currin Swinging Bridge restoration.
Following the 2016 closure of the bridge, community members and city employees worked to secure funding and grants and to make a plan for its safe replacement. The unique swinging bridge, which has been a prominent landmark since the 1920s, is an important piece of history for this community.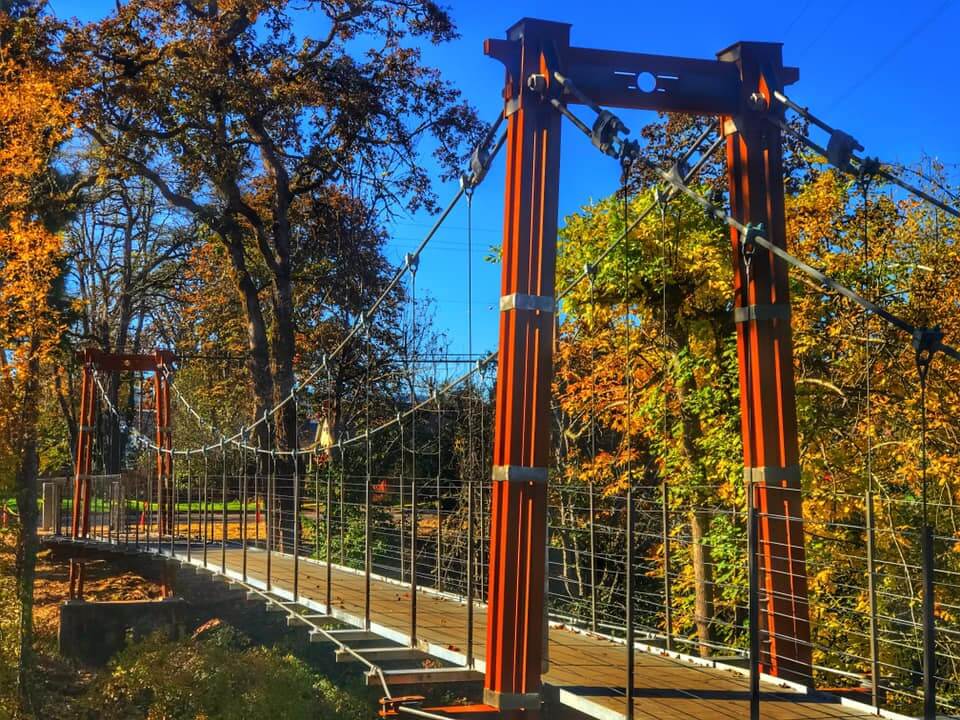 From the beginning, this swinging bridge project was a collaboration between Ausland Group Engineering,  Hamilton Construction Company, the City of Cottage Grove, and passionate community members. The restoration plan had to maintain the historic elements of the bridge, protect the sensitive environment in and around the Coast Fork of the Willamette River, and be economical for the City. The new bridge retains the community desired "swinging" characteristic and uses a non-slip synthetic decking material, called pultruded fiberglass, commonly used for marine docks.
"This really is a feel-good community project and it is great to be associated with it," said Greg Ausland, the design project manager for the Swinging Bridge. "Ausland's bridge designer, Tony LaMorticella, and I have worked on a lot of bridges together throughout the state and this one is special because of how unique it is and the level of community support it has."
The design retains many of the original bridge characteristics, but the new bridge is much stronger. The new weathering-steel towers, which replace existing rotting wood towers, will form a patina and not need to be painted. At 11⁄4 inches thick, the high-strength steel bridge strand cables are only a quarter-inch thicker than the old strands, yet will be nearly three times stronger at a 96-ton breaking strength. The stainless-steel bridge rail is reconstructed about a foot higher to adhere to the building code for bicycle traffic.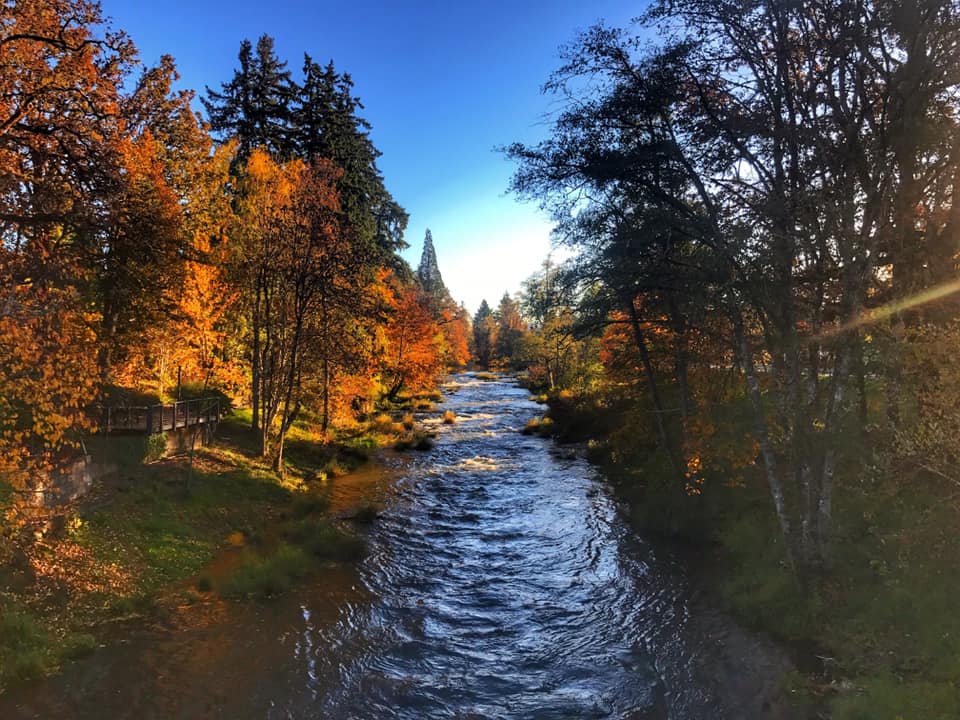 "It is an integral part of the Cottage Grove community because generations of local families have used it to get to school, visit neighbors and relatives, have their first date (and sometimes kiss) on that bridge, etc." said Dana Merryday, who heads up the Friends of Cottage Grove Swinging Bridge community group. "Ask anyone who grew up in Cottage Grove and immediately they will start telling you stories about their connection and experiences on the bridge." The organization mobilized the community and kept citizens updated on the progress of the project through its Facebook page. 
Ausland Group, along with Hamilton Construction, representatives from the City of Cottage Grove, and influential members of the community, received the ASCE Oregon Project of the Year Award at a virtual celebration on September 22, 2020.