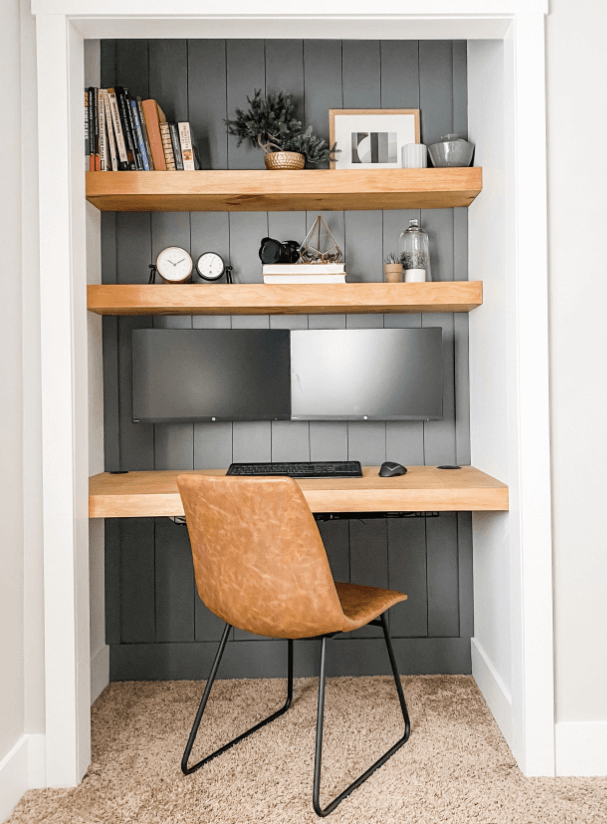 For many of us, the pandemic is the first time we've worked from a home office for an extended period (or maybe ever!).  However, while working from home (WFH) may have its perks (the one minute commute or the money you save from avoiding your $6 per day latte habit), many challenges come with this new way of living.
We know that everyone's WFH situation varies. From roommates to children (bless you, parents, with kids at home) and small spaces to large ones, distractions are inevitable. As designers and builders, we love creating efficient spaces for people to thrive at what they do! And as much as that dining-table-turned-desk is convenient, it may be time to find something more functional.
For those who are finding their pandemic WFH situation to be less than ideal, here are some tips and tricks to create great workspaces at home.
Finding the Right Location & Desk
For some people, choosing an area for their WFH space is easy. A guestroom or an actual "home office" room is ideal, however, not everyone has a free room to spare. Depending on your WFH space, you may need to get creative. A functional desk space CAN be fit into lesser-used nooks and crannies of a home. Creative locations can be simple and easily tackled with a trip to a hardware store and a weekend's worth of work. Plus, your dining room table will thank you.
Closet or Nook Conversion
Having a dedicated work area, even one as small as a closet or a nook, can create an atmosphere. For example, by removing the doors and running an extension cord to your closet, you can easily achieve a functional workspace. Choose narrow, low profile desks and consider floating shelves above your workspace to allow books or a printer.
If you are unable to convert a closet into a work area (or if you have too many clothes), a nook conversion may be a better option. A curtain, folding screen, or even a bookcase can help create a dedicated work area if you are unable to dedicate a separate room as your home office.
 Hallway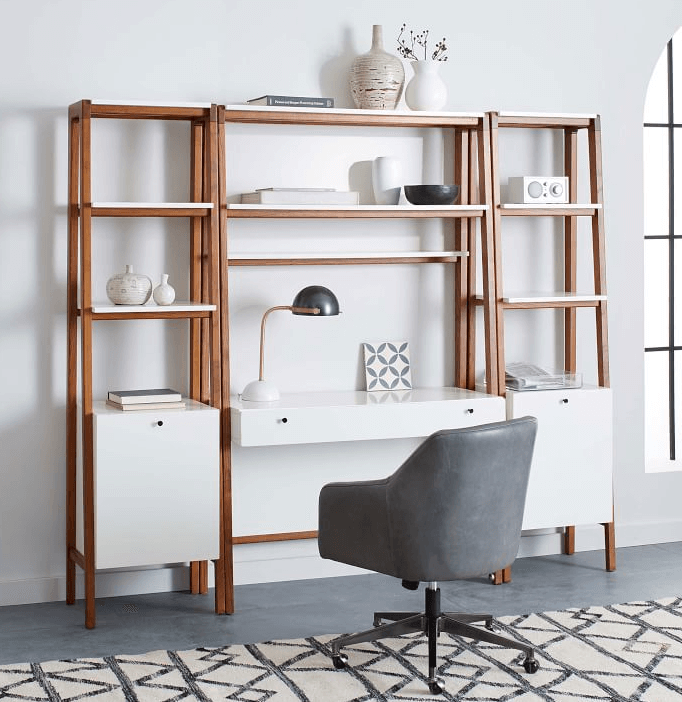 Look around your home for a hallway with a little extra room. Maybe it's the entryway to the house, or across from an opening to the family room where there would be extra room for moving a chair around. If you have stairs, the top landing can be a perfect open area for an office space. Adding a floating or fold-up desk will help maximize the small area. Hallway corners make an ideal location for an L-shaped desk, giving you ample space to work.
A standing desk is also a great option that can be accommodated in small spaces and eliminates having to sit for long periods. Don't have the budget for one? Try building your own with inexpensive wood and shelf brackets to create a bar height desk that you can stand at. Buy a bar stool or chair that you can sit on when needed. If you live in a small apartment with minimal room, a countertop bar can work as a great standing desk without the hassle of building your own!
For more creative DIY home desk ideas, click here.
Creating an Ambience Conducive to Work & Learning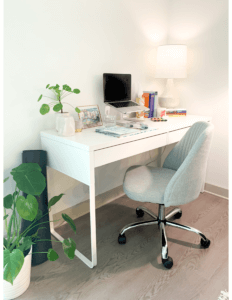 Decorate your office to make it feel like your space. The more pleasant your office space, the more you will enjoy the time you spend there. Studies show that having an inviting and efficient workspace translates to increased productivity. Adding personal touches and colors can help your space feel more inviting. Also, never underestimate the power of a houseplant. Connect to your inner biophilia and improve your concentration and productivity by bringing the natural environment inside your home.  Create an ambiance that is uniquely yours and one that doesn't have to change back into the dining room table after 5:00 p.m.
Lighting
Lighting is key when designing your workspace. Always take advantage of the natural light from a window. Sunlight can produce warm lighting that improves WFH environments, plus a good view goes a long way. Don't have natural light? No problem. Use LED bulbs that mimic daylight. To reduce eye strain, think about having lighting over your work area or using a desk light or standing lamp with a shade.
Air Quality
As if COVID has not created enough challenges for us all, the recent devastating wildfires throughout our beautiful region sharply drew our attention to air quality. Oregon appears to be annually suffering smoke impacts in our late summer months, to some degree.  Other summers we have been able to find respite in our office environments that have large, industrially designed ventilation systems (but even these are evolving to deal with COVID) and now we must find ways to limit the amount of smoke that impacts our home environment. If you have a central air conditioner,  true HEPA filters or filters that filter particles as small as .03 microns will work.  Sometimes, however, WFH requires creativity. Another solution is to attach a HEPA filter used for air conditioners to a box fan, which can remove particulates from the air.
 Last but not least…
 Less Is More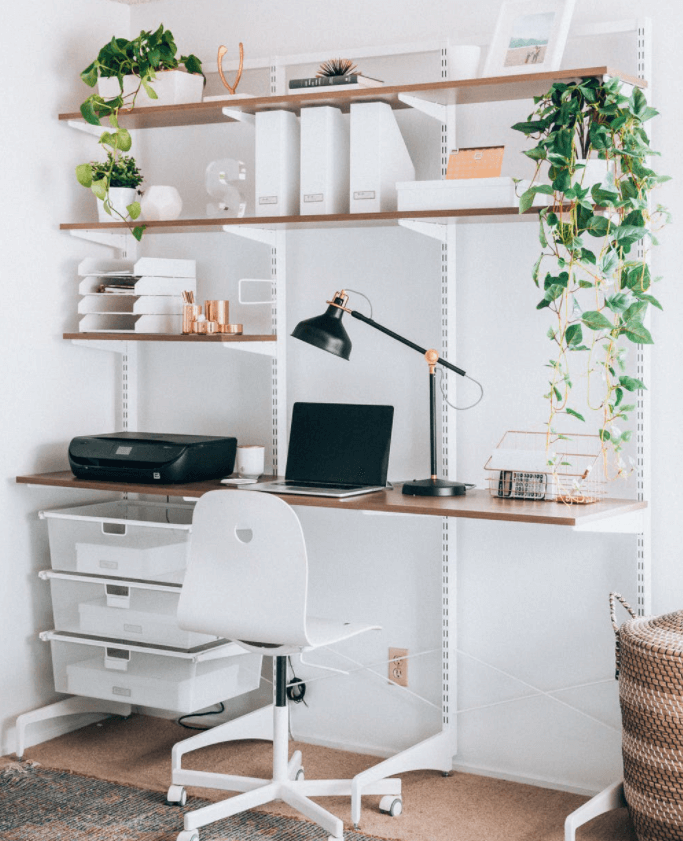 A simple clean or reorganization of your work area can make a huge difference in your work productivity. Clutter is very distracting. Limit your desk to your work essentials. Use baskets or storage bins as a simple and effective way to declutter your desk while keeping items together in an organized fashion. This organization will also help you separate work life from home life by not seeing your work project sitting out at your dining room table during dinner.
The amazing opportunity of WFH is being able to enjoy the time previously spent on commutes and impromptu meetings. Try not to sacrifice the pleasure of leaving work behind you at the end of your day.  Creating a dynamic and organized WFH space and environment will pay huge returns in your happiness and productivity.  And tomorrow at 7:30 a.m. you can happily start your morning commute with a smile on your face.