Ashland's new fire station is a mix of classic fire station elements and cutting edge upgrades. At the corner of Sherwood Street and Ashland Street, across from the cemetery, the shiny glass roll-up doors frame the bright red fire engines just like in the classic dreams of kids everywhere. But just off of the fire engine bays are the high tech standards of today's fire station –
a decontamination room, a secure room for medicine storage and high tech HVAC systems to exhaust vehicle fumes as well as heat the engine bays.
The architecture is functional and impressive, fitting of the public service that is fire fighting. Huge beams of laminated Fir dominate the vertical and horizontal lines of the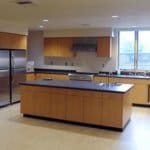 new building and concrete forms were used to create a rugged visual statement to the street side face.
While fire stations have traditionally been a community hub, rarely has one be the home of public art, but in Ashland is a thriving arts community! The sculpture, "Open Minded" by CJ Rench is placed at the prominent front entrance to the new station.
The grand opening of the station and art installation was Feb 14, 2013 but you can admire the architecture, engine bays and public art from Ashland Street anytime. There is, of course, a brass fire pole that lets firemen and women launch from their quarters on the second floor to the engine bay. The brass pole, 21 feet high and specially ordered from Brass Finders http://www.brassfinders.com and JW Hurd Fabrications. What you might not know about today's fire pole is that the landing base is designed to cushion the feet of the firemen and women as they rush into service with a 2" high density foam pad.
It was Ausland's pleasure to serve Ashland by building this new facility.