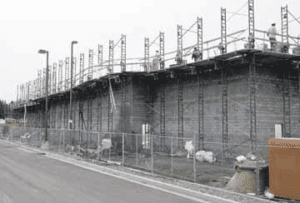 By Jeff Duewel of the Daily Courier.  www.thedailycourier.com
The walls are already going up on a 9,000-foot expansion at Southgate Cinema, the lone movie complex in Grants Pass.
Ausland Group is the contractor for the $1.5 million project, which includes five new theaters, and should be done in early April, said Ausland President Kelsy Ausland.
"We're fast-tracking this project in order to have the new theaters in full operation in April," she said. "It is exciting to be a part of creating the stage where so much movie magic is experienced by our community."
The theater, owned by Ashland-based Coming Attractions Theaters, will be in full operation during the expansion. The addition is being done on the east side of the building — the back side as you enter the ticket booth.
Southgate, built 15 years ago, has eight theaters, one of which will be converted to a party room and game room, so the final count will be 12 theaters after expansion.
Last week Ausland completed the foundation concrete work, and more 24-foot walls are going up this week. The work is coordinated so that construction noise doesn't detract from the movie experience, Ausland said.
Movies 6 in the Grants Pass Shopping Center closed in 2010, ending over 30 years of a movie theater in that location.
Southgate opened with four theaters in the summer of 1997 at 1625 Ringuette St. in south Grants Pass, and expanded to eight screens in 2005.
Southgate's 2005 expansion increased it from 745 seats to 1,135 seats, and square footage from 9,714 to 13,932. After the current project is completed, it will have more than 20,000 square feet.
Ausland Group offers complete capital improvement expertise in development consulting, engineering, and construction.   For more information, visit us at https://auslandgroup.com/