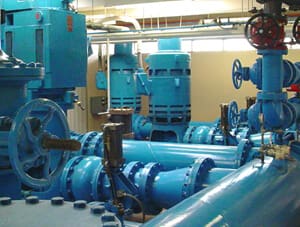 January 5th, 2011 — A plain CMU building outside of the northern entrance to the Rogue Valley Mall doesn't seem like much but inside are three 500 hp horizontal split case pumps that pressurize the Medford water supply system.
The $800,000 thousand dollar projet includes providing mechanical, electrical, HV AC, and instrumentation improvements in two separate facilities located in the Medford area, Conrad Control Station, and Rossanley Control Station.
These two stations are part of the Medford Water Commission water distribution system and provide the dual functions of pumping water during the summer season and reducing the pressure of water between service zones during the winter season. The mechanical improvements include the supply and installation of three 500 hp horizontal split case pumps at Comad Control Station and one 200 hp vertical turbine pump at Rossanley Control Station.
Other mechanical improvements include two new pressure reducing valves at Conrad Control Station, and new pump suction and discharge piping and valves at both stations. Work at both stations also includes electrical upgrades (including new motor control centers for the pumps), HV AC upgrades, new instrumentation (pressure transmitters and flowmeters), and minor building modifications.
Source:
Medford Water Commission Notice of Award