Note: Ausland Group provided capital campaign, design, and construction administration services for Britt Festivals to make this project come to fruition.  More information can be found at: https://auslandgroup.com/momentum-building-for-britt-festivals-improvements/
By Kasey Kershner, Medford Mail Tribune April 8, 2014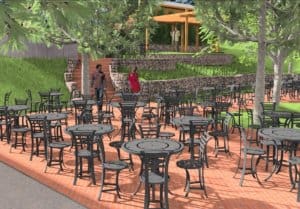 Jacksonville, Ore. — Britt Festival administrators are taking advantage of the last few months before events start to make some big changes to the venue.
The main project is the addition of a new Performance Garden that will replace the Table Rock Cafe Stage. Administrators say that the addition of the new smaller second stage will give the festival more variety when setting up shows.
The Performance Garden will be used in addition to the main stage to offer more intimate performances and presentations like family concerts or local performers. The new stage will include terrace seating and will only seat about 150 people total. With the construction of the new stage, the public will also have an opportunity to buy an inscribed brick that will make up the new sidewalk leading to the stage. Administrators also said they will be improving handicap accessibility of all their facilities for the summer.
Ausland Group offers complete capital improvement expertise in development consulting, engineering, and construction.   For more information, visit us at https://auslandgroup.com/