CALDERA BREWING CO.
In high spirits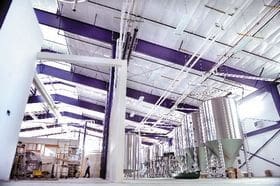 Expansion nears completion at local brewery, which will include a larger brew house, restaurant, tasting room and new distillery.  By Sam Wheeler, Ashland Daily Tidings, August 30, 2012
Caldera Brewing Co. is putting the finishing touches on a new, expanded brew house and soon-to-be restaurant, tasting room and distillery, owner Jim Mills said.
By Oct. 1, the company plans to move all of its brewing equipment into the 28,000-square-foot building, which sits a few hundred yards up Clover Lane from its current brew house, and hopes to open a 134-seat restaurant and other amenities a month later, he said.
"I'm more excited to get the brew house going," Mills said, perched on top of a ladder wedging putty around an air vent in the new building while busy construction crews worked in every room. "It's starting to look good in here."
Caldera, a homegrown Ashland business launched in 1996, operates out of a 6,000-square-foot brewery on Clover Lane and the Caldera Tap House on Water Street in downtown Ashland.
About 10 people work at the brewery with another 10 working at the tap house, and Mills hopes the expansion will add another 15 to 18 employees to Caldera's staff, he said.
Mills said he plans to branch out from beer into distilled spirits and nonalcoholic soda and tea once the company settles in at its new location.
"I've been wanting to distill for a while now, we just don't have any room where we are at now," Mills said. "We'll distill scotch, vodka, bourbon, gin … I brew this hibiscus and rose petal iced tea that's pretty good; we'll also make that."
As for soda, Mills said, Caldera likely will start with ginger ale and root beer.
With 92 seats inside and 42 outside, the restaurant will be one of Ashland's largest, Mills said. And it could expand.
"We're really going to step it up a notch from what we offer at the tap house, but we're still going to keep it affordable," Mills said.
He said some of the burgers from the tap house will make it on the restaurant's menu and will be joined by a variety of entrées, including pasta and hand-made pizzas.
Although Mills plans to open the restaurant and tasting room by Nov. 1, he said, it's possible that date could be pushed back up to a month.
The award-winning brewery likely won't begin distilling spirits until next year, Mills said.
Medford-based contractor Ausland Group broke ground on the project in October 2011, after the Ashland City Council unanimously approved an annexation and zoning change for three lots on 3.72 acres on Clover Lane.
City councilors said they supported Caldera's expansion because it would provide jobs and contribute to economic growth in Ashland.
Ron Fox, executive director of Southern Oregon Regional Economic Development Inc., praised Caldera's growth, comparing its success to some of the region's most popular wineries.
"This will allow them to push their products further outside of their current market area," Fox said. "Their product has the kinds of characteristics that should attract consumers from all over the United States … there is also potential for international marketing opportunities."
Caldera serves the Eugene, Portland and Southern Oregon markets, its website says.
Caldera's brew house is supported by a 10-barrel system, not including fermentation tanks. Its new facility will house a 40-barrel system until 10 of those barrels are set aside for distilling, Mills said.
"This place is going to be the real deal," he said.
Reach reporter Sam Wheeler at 541-499-1470 or email swheeler@dailytidings.com.
Ausland Group offers complete capital improvement expertise in development consulting, engineering, and construction.   For more information, visit us at https://auslandgroup.com/