Published: Sunday, September 09, 2012, 11:15 AM
 By John Foyston, Special to The Oregonian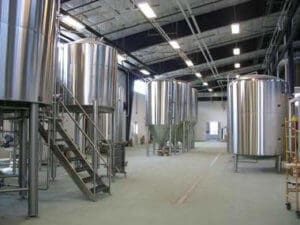 Jim Mills and Caldera brewing are building a new  25,000 square foot brewery just a block away from the original Caldera brewery on the southeast side of the last Ashland exit from I-5, at 590 Clover Lane. The complex is huge, and plans call for an opening this November.
It includes a four-vessel, 30-barrel brewhouse from JV Northwest, ranks of fermenters including some 60- and 90-barrel tanks, a distillery in future plans, a kitchen, a 65-foot x 40-foot  pub, bottling and canning lines and coolers for hop storage, cans bottles and kegs and a lagering cooler with 90 barrels of capacity. Grain silos? Three, each for a different malt.
The tasting room/pub will feature house made sodas, a draft chardonnay and 27 beer taps and seats about 90.
There's also a patio that's heated in the winter and seats about 40. No word yet on the cost of the project, but the scope is inspiring. The way-popular Caldera Taproom downtown by the creek will remain open, which is good news I'm sure to locals — and to me: I love the place, an the current 10-barel production brewhouse moves to the new digs, where it'll be used for specialty and seasonal beers.
Ausland Group offers complete capital improvement expertise in development consulting, engineering, and construction.   For more information, visit us at https://auslandgroup.com/