MEDFORD, OR — A new work by Jacksonville metal artist Cheryl Garcia has been installed on the Britt hill. Titled "Brittilaria," the sculpture was inspired by the frittilaria flower that grows in the Jacksonville Woodlands. "Brittilaria" is
located near the entrance to the Britt hill, next to the Performance Garden. The work is on a long-term loan to Britt from Dr. Sean Kevin Roden and Mrs. Sonya Kay Roden. The work was dedicated in a reception on April 10th at Britt.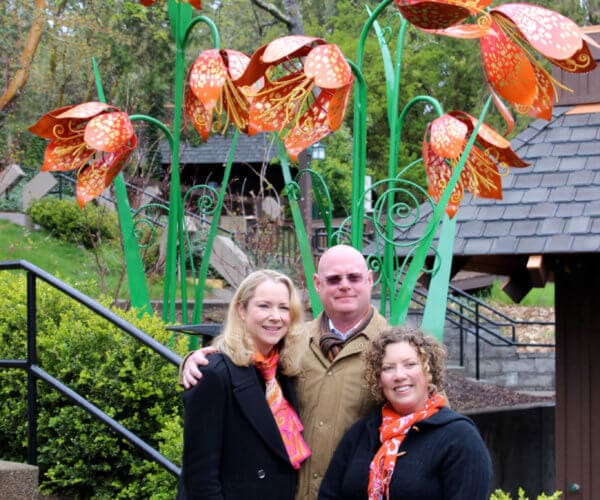 Garcia was inspired by the frittilaria from the first spring she lived in Jacksonville, in 2006. She says, "This diminutive flower rarely spotted in the woods above Jacksonville was a striking red-orange contrast among the fertile green grasses on the hillside. I was hooked. This must be one of the flowers to come in my repetoire of beauties. I sketched a composition and detailing of this exquisite flower and waited for the right time for the concept to become reality."
Last summer, Garcia attended a concert at Britt and found a great location for the work to come to fruition. "Brittilaria" was made possible by the support of Dr. Sean Kevin Roden and Mrs. Sonya Kay Roden, former Jacksonville residents. The finished piece was installed this month, and includes three sculptures, with a total of seven blooms. The tallest of the sculptures reaches more than 12 feet high.
"Cheryl's vision fit perfectly into our beautiful hillside setting and her enthusiasm was contagious," says Britt's CEO and President Donna Briggs. "After all, Britt is all about art and engaging the audience's sensibilities. Britt's board and staff are excited that this magnificent sculpture will add to the overall Britt Experience for many years to come."
Garcia is an accomplished metal artist, whose work is inspired by the natural world. Her public art works include the "Monumental" poppies in the Quail Run vineyards outside of Jacksonville, the "Bolander's Lily" and "Giant Bottle Tree" in Red Lily Vineyards, and the "You Are Hear" sculpture on the old town boardwalk in Bandon. See Garcia's website for a full list of shows, public art and more at www.greatmetalwork.com
Inspired by its intimate and scenic hillside venue, Britt provides diverse live performances, an incomparable classical festival and dynamic education programs that create a sense of discovery and community. Since its grassroots beginnings in 1963, the non-profit organization has grown from a two-week chamber music festival to a summer-long series of concerts in a variety of genres, including a three-week Classical Festival, and year-round education and engagement programs. For more information, visit brittfest.org.