By Sam Wheeler,  Mail Tribune, March 17, 2015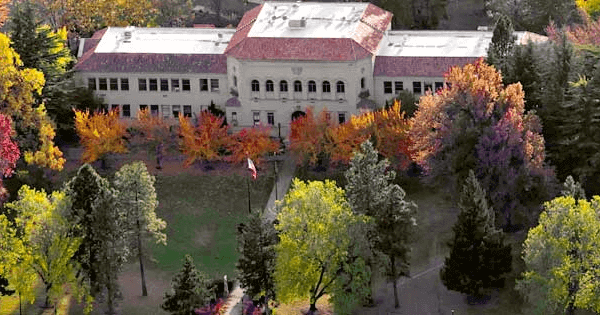 Ashland, OR – More than $130 million in scheduled and completed capital improvements at Southern Oregon University since 2010 are changing the face of the school and solidifying its place as a cornerstone of Ashland's economy.
The school is planning to break ground in August on a project that will transform 120,000-square-foot, nearly six-decade-old McNeal Pavilion into a polished and sturdy new athletic hub for students and fans with the addition of a 58,000-square-foot student recreation center.
The $29 million remodel and expansion, which included a new $800,000 synthetic turf at Fuller Field, hasn't been awarded to a contractor, said Drew Gilliland, SOU's director of facilities, planning, management and sustainability.
Two architectural firms were selected and worked together to design the project, with the recreation center being designed by Sink Combs Dethlefs Architects in Colorado and McNeal being designed by Straus & Seibert Architects of Medford.
Most of the building must be replaced, including the space now occupied by the main gym, an auxiliary gym, a dance studio and the pool.
Those components, minus the pool, are planned to be rebuilt from the ground up, Gilliland said. He emphasized that the architects' plans are still in flux as parties make adjustments to avoid cost overruns.
The school's aging Science Building has been under construction for the last eight months, with $21 million in upgrades scheduled to be completed in time for the start of fall term.
Andersen Construction, which has offices in Oregon, Washington and Idaho, is working to complete the project.
Across the street, the Theater Arts building is poised for a $11.5 million facelift.
Half of the funding was secured by the university during the 2009-2011 biennium. The rest should come through in April or May following approval by the state Legislature, Gilliland said.
The building will be expanded by as much as 60,000 square feet. The building is currently being designed at Medford-based Ogden Roemer Wilkerson Architecture, Gilliland said.
With about 750 employees, SOU is the city's largest employer, and it's been good to see the school flourishing, especially during tough economic times, said Katharine Cato, marketing director for the Ashland Chamber of Commerce.
"We have such a valuable partnership with SOU. … Education has always been one of the foundations of Ashland," Cato said. "There is a lot of optimism there, and there is growth."
That can only be positive for Ashland, she said.
In September 2013, SOU completed a $56.6 million project that included nearly 200,000 square feet of new residence halls and a 25,300-square-foot dining hall.
Although the dining hall was paid for mostly with $7 million in state funding, it and the two residence halls were built on SOU-owned land that was leased to American Campus Communities, a Texas-based builder-manager of campus properties that financed the new residential halls for SOU.
The construction portion of the project, handled by Medford-based Adroit Construction, cost an estimated $40 million of the university's $56.6 million investment agreement with American Campus Communities.
During summer 2013, Southern Oregon-based Ausland group completed $700,000 in upgrades to Taylor Hall, which was outfitted with new windows, exterior walls and other energy-saving upgrades.
A year later, the Plunkett Center, on the farthest west side of campus, received a new roof at a cost of $118,000. The funding for that project, as with the upgrades at Taylor Hall, came from $1.5 million SOU is awarded each biennium from the state to cover deferred maintenance costs.
With $339,000 in state deferred maintenance money, the school also remodeled the second story of Britt Hall to better centralize the school's administration offices, creating Britt Service Center.
In summer 2012, the school completed a $6.4 million renovation of nearly 90-year-old Churchill Hall. The project was paid for out of deferred maintenance money allocated by the Legislature, Gilliland said.
"Between 2010 and 2013, we were running almost $50 million worth of projects … about 75 percent of that went to local contractors," Gilliland said.
Of the roughly $132 million in infrastructure investments scheduled at SOU's campus since 2010, about $47 million of the funding is state-allocated, about $29 million is paid for through student fees by Ashland students, and the remaining $56 million or so is part of the public-private investment agreement tied to the new residential halls.
State Rep. Peter Buckley, D-Ashland, co-chairman of the budget-writing Ways and Means Committee, and State Sen. Alan Bates, D-Medford, have both helped rope in hard-to-get state dollars for improvements at SOU.
"Buckley has definitely been an wonderful supporter, him and Bates, of representing our needs to the Legislature," Gilliland said. "Part of that success is reflected in the funding we've received. He was very instrumental in taking care of the McNeal deterioration problem. Even recently, (Buckley) was willing to go to bat for us again, when we realized we couldn't afford a pool for the McNeal project. Without Buckley and Bates and the leadership at the university, we wouldn't be where we are right now.
"The investment that the state has made in Southern Oregon, not only has made us a better institution, it has made us a better community," he said.