101-year-old Applegate School gets ready for quake
"Ausland Group wrote the grant, oversaw design, and is now administering construction on behalf of the District".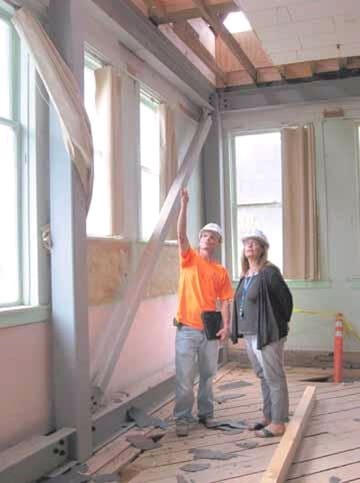 By Patti Richter of the Daily Courier
APPLEGATE — Nearly a century after it was built, Applegate School is getting some much-needed help.
In March 2010, Applegate School was chosen as a recipient of an Oregon Emergency Management seismic rehabilitation grant. The $846,000 grant is being used to shore up the brick building and install steel structural supports.
Construction started on the original Applegate School in 1910 and its doors were opened on Dec. 12, 1912. District officials decided to abandon the historic building in 2000 when structural engineers determined the building wasn't sound. At the time, the four large classrooms on the upper level housed grades one through four. Students were moved into temporary portable buildings, which are still in use. Grades five through eight meet in a newer building on the same grounds, while the older building is currently used as a storage facility.
Since April, crews have torn off the roof to make room for steel support beams that will protect against an earthquake. The beams have been installed and now work is focusing on a new roof.
"There are a lot more unique attributes in a building this age," said Daniel Ronda, project superintendent for the Ausland Group Construction Services, which is handling the project. "The construction was unique and there were a few things we really had to overcome."
One of those was finding the end of the old building's support beams. Workers had to dig by hand through rocky ground up to 5 feet deep in several locations to find the end of the support beams and then go another 16 inches deeper for the new steel supports. They then poured new concrete.
"At some points, we had guys digging under the building in little caves with shovels," Ronda said. "That took several weeks to do."
The steel beams weigh about 900 pounds each and the columns that support them are around 1,200 pounds each. Each of the steel beams and columns were lowered in through the roof using a crane. "The wood and steel ties together to create a seismically sound structure," Ronda added.
Crews are also planning to upgrade the school's mechanical systems, replacing old windows and a few other cosmetic items, said Principal Stephanie Allen-Hart.
"We are in the process of figuring out how much it will all cost," she said. Allen-Hart added they were hoping to recruit volunteers who specialize in these areas to donate their time to help with the finishing touches.
Workers were also careful to remove the large bell in the school's bell tower and ceiling boards covered with signatures from former students. Last year's eighth-graders were able to sign the bell, like many of the students who attended Applegate before them.
Ronda believes Ausland will finish the project in November. Allen-Hart said counselors and custodians will likely move into the building's first floor once it is available. Students will get to use the classrooms in the building next fall, just in time for Applegate's 100th anniversary celebration.
"Ausland has been fantastic and worked around our schedule. The noise hasn't been too bad," said Allen-Hart. "Some of our younger students love coming out on recess to watch them work. It's been fun to see this kind of activity because the building has been off limits to our students for 10 years. It is going to be nice to have students inside it again."