County's shiny paint job completes $2.4 million improvement project
Ausland Group led this seismic and architectural renovations for Josephine County.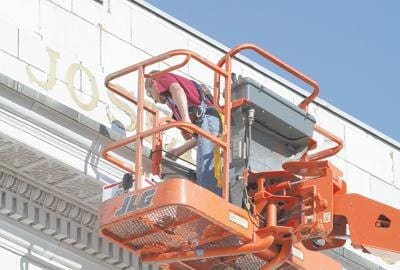 By Stacy D. Stumbo of the Daily Courier
A maintenance worker put the "JO" back in JOSEPHINE COUNTY over the weekend.
After decades of exposure to the elements, the gold label on the front of the Josephine County Courthouse at 500 Sixth St. in downtown Grants Pass had started to fade.
"We've known we needed to do something for the past couple of years," said Rich Halliday, the county's property facilities manager.
The three-story marble core of local democracy was constructed in 1916, and no one remembers the last time the letters were repainted, Halliday said. It may have been more than 50 years ago.
"We weren't even sure what type of paint was used to do it," Halliday said.
Maintenance workers wondered if the paint was gold leaf, like that used on the Golden Pioneer that stands atop the Oregon Capitol in Salem. Some theorized it might be actual gold that was recessed in the marble. The truth was revealed after a worker leaned over the building's parapet and investigated.
"Turns out, it was just paint," Halliday said. "But it was really good paint with lots of lead in it. Obviously, we can't use lead paint nowadays, but we got very high quality gold paint and it will look just as good."
The shiny new paint job comes just as the county completes a $2.4 million improvement project at the courthouse, paid for with bonds backed by the Oregon State Lottery. Improvements included installation of fire sprinkler and alarm systems, lighting upgrades and building security.
The project began in April.